Thanks to many in 1776, Happy Independence Day!
We wouldn't be in a position to extend "Happy Independence Day" wishes without the revolutionary efforts of many in 1776. It was a revolutionary year, and it is a good book.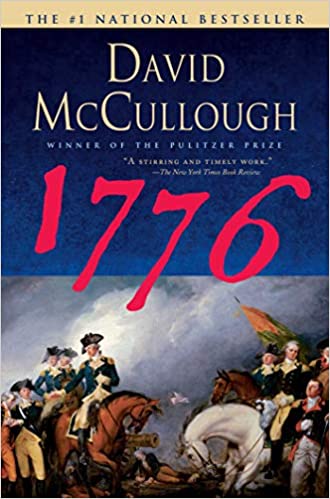 Written by David McCullough, winner of the Pulitzer Prize, the book reads like a novel. We can all recite a few sentences, maybe a few paragraphs, about the year, and about the main character, the first among equals, George Washington. Reading this book immerses you in the times, the circumstances; the long odds and the weight of the outcomes.
The following taken from the Audible page where the audio-book version of 1776 is offered. The cover image is from the Amazon page where the book is offered.
Publisher's Summary
In this stirring audiobook, David McCullough tells the intensely human story of those who marched with General George Washington in the year of the Declaration of Independence, when the whole American cause was riding on their success, without which all hope for independence would have been dashed and the noble ideals of the Declaration would have amounted to little more than words on paper.
Based on extensive research in both American and British archives, 1776 is the story of Americans in the ranks, men of every shape, size, and color, farmers, schoolteachers, shoemakers, no-accounts, and mere boys turned soldiers. And it is the story of the British commander, William Howe, and his highly disciplined redcoats, who looked on their rebel foes with contempt and fought with a valor too little known. But it is the American commander-in-chief who stands foremost: Washington, who had never before led an army in battle.
The darkest hours of that tumultuous year were as dark as any Americans have known. Especially in our own tumultuous time, 1776 is powerful testimony to how much is owed to a rare few in that brave founding epoch, and what a miracle it was that things turned out as they did.
Written as a companion work to his celebrated biography of John Adams, David McCullough's 1776 is another landmark in the literature of American history.
©2005 David McCullough (P)2005 Simon and Schuster Inc. AUDIOWORKS is an imprint of Simon and Schuster Audio Division, Simon and Schuster Inc.
1776 Critic Reviews
2005 Audie Award Nominee, Narration by the Author
2005 Publishers Weekly Listen Up Award, Nonfiction
"A first-rate historical account." (Booklist)
"A narrative tour de force, exhibiting all the hallmarks the author is known for: fascinating subject matter, expert research, and detailed, graceful prose…. Simply put, this is history writing at its best from one of its top practitioners." (Publishers Weekly)
"A stirring and timely work, reminding us that it's soldiers rather than 'tavern patriots and windy politicians' who have always paid the price of American idealism and determined its successes. (The New York Times)
Happy Independence Day!
We wish all our clients, customers, associates, vendors, neighbors, friends and family a happy, healthy, safe Independence Day weekend. We encourage gratitude for the sacrifices of many, and hope for the future of all.
###
Thanks to our friend and vendor, Keith Klein of OnYourMark, LLC, for drafting this post and sharing it with us, so we could share it with you.
***
Your suggestions, comments and questions are always welcome. Please contact us.